About Us
At Lucky's Corner 2, we specialize in serving premium dishes in Ajax. Our restaurant's modern dining area, affordable prices, and a strong focus on great service to each of our customers are simply incomparable to our competitors. In order to deliver fresh authentic recipes, our restaurant's talented team prepares each meal with the finest ingredients. We invite you to join us and unwind with friends and family today - we guarantee you will leave feeling truly satisfied.
Open from Monday to Saturday for breakfast, our menu offers an array of delicious breakfast options each served with yam, dumpling, banana, and many more. You can try our Baked Beans and Codfish, Curry Chicken, Cow Liver, or the Ackee and Codfish. These breakfast meals go perfectly with our selection of teas like the Mint Tea or the Ginger Tea. For lunch make sure you try out our porridge of the day meal. Some popular favourites include the Banana Porridge, Oatmeal Porridge, Cornmeal Porridge, and the Peanut Porridge. Also, if you are interested in trying out some mouthwatering soups, make sure to try the Goat Head Soup, Chicken Soup, or the Gongo Pea Sop. For Dinner, you can choose from a variety of delicacies such as the Tripe and Beans, Cow Foot, Curry Goat, Oxtail, and many more. Visit Lucky's Corner 2 today and enjoy one of our amazing offers. If you feel like relaxing instead of cooking, you can order one of our tasty meals from the convenience of your house or office and have your meal delivered straight to your front door! To order online delivery or pickup, view our menu through SkipTheDishes and we will take care of the rest!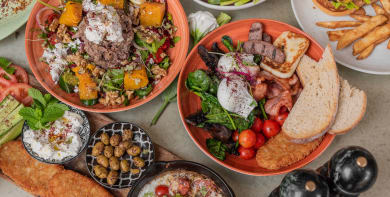 Contact Us
Find Us
71 Station St, Ajax, ON L1S 1S2, Canada, Ajax, L1S 1S2
Opening Hours
Tuesday
9:00 AM - 8:30 PM
Wednesday
9:00 AM - 8:30 PM
Thursday
9:00 AM - 8:30 PM
Saturday
9:00 AM - 8:30 PM
Please note, delivery times may vary.
We deliver to
L0B, L0H, L1M, L1N, L1P, L1R, L1S, L1T, L1V, L1W, L1X, L1Y, L1Z, M1B, M1C, M1E